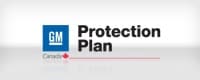 GM Protection Plan
Protection For You And Your Vehicle
Your GM vehicle is a major investment you will want to protect for years to come. The GM Protection Plan (GMPP) offers you that assurance and peace of mind motoring for the road ahead. 

GM Protection Plan contracts , the only product endorsed by General Motors for GM vehicles protects against unexpected vehicle repair costs and ensures your vehicle repairs are completed by professional factory-trained technicians. With the availability of different coverage levels and a wide range of time & kilometer options, GMPP will suit almost every driver's needs. Whether your vehicle is purchased or leased, GM Protection Plan protects you and your investment.
Service Contract
Do I need a vehicle service contract?
Most likely you'll own or lease your vehicle beyond the manufacturer's base warranty. Unexpected repair costs can be costly, not to mention the difficulty of being without your vehicle. GM vehicle service contracts can reduce the hassle and inconvenience of a breakdown or repair by providing:
Coverage of components against failure, even if it results from Normal Wear.
Roadside Assistance (Total 'Plus'), offers towing service and lock-out service.
Road Service Allowance (Custom and Powertrain), towing and road service with a fixed limit.
Alternate transportation or rental when the vehicle is tied up for repairs that require at least two (2) hours of repair time.
Quality repairs by a GM dealer without excessive paperwork and unanticipated expense.
Cost and Convenience
Minimize your expenses
With the technology used in today's cars, repair costs have risen and will probably continue to do so. One major out-of-warranty repair can exceed the cost of buying a GM Protection Plan contract.
Not only will the GM Protection Plan minimize or even eliminate out-of-pocket expenses for covered repairs, your GM dealer will handle the claim, so you have no paperwork.

Other Benefits
It doesn't stop there
GM Protection Plan provides customers with financial security against unanticipated vehicle repair expenses. Depending on the coverage, additional benefits may include:
Alternate transportation or rental during the repair.
Roadside assistance or towing.
Convenient service at more than 7,500 GM dealerships across the United States and Canada.